News Details
Masters of the Universe Classics: He-Ro
We may not have made it to the San Diego Comic Con this year, but thanks to the magic of the Internet and of mattycollector.com, we were able to pick up two of the key figures from the show, He-Ro and Egon! He-Ro has arrived, and he really looks great. We haven't opened one yet to see what color crystal we got, but will do so soon. I wonder what the rare color is - eBay to the rescue! (Sounds like green is the most common, red is in the middle and purple is the most rare). Click on the image below for more shots, and the great bio!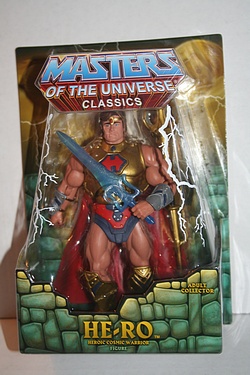 Posted by charlie on August 13th 2009, 02:14 AM
Leave Comment

Share
---
cranky_skink
August 13th, 06:50 AM

Techno-organic virus? Those were big in the 90s.
cparry
August 13th, 11:52 AM

As long as you keep some mystical pools around, it should be no problem.
---