News Details
Playmobil - Set #4492: Chicken Coop
At the risk of becoming a Playmobil coverage site, I can't resist posting another great set from this line that recently joined the Preserve archives. Today we're taking a look at set #4492, the chicken coop! You get a simply absurd number of chickens and chicks with this set along with some eggs and a proper basket with which to collect them! Of course what Playmobil set would be complete without another great figure to act out all the tasks the set has to offer. Click the image below for a few more angles of this set, and pick it up if you can!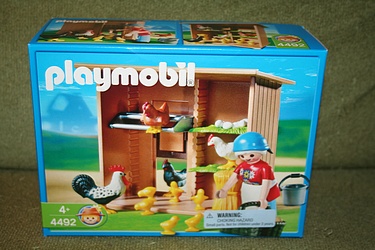 Posted by charlie on September 4th 2009, 05:08 PM
Leave Comment

Share
---
No comments have been posted.
---