News Details
Playmobil - Pirate Island Super Set #4136
A little bit of a late post on this Labor Day, but we were busy taking the Government's advice and not laboring too very much! Today please check out Playmobil set #4136, the Pirate Island Super Set! With this you get two swarthy pirates, a half of a wrecked pirate ship on a small island complete with palm tree, and a ton of accessories, like treasure, a parrot and a shark! This certainly makes the set super, so click the image below for a few more shots.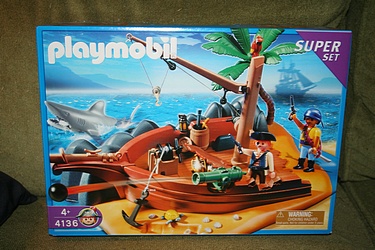 Posted by charlie on September 7th 2009, 10:09 PM
Leave Comment

Share
---
No comments have been posted.
---