News Details
Transformers Universe: Ratchet
All this talk about the new Transformers: Revenge of the Fallen line can overshadow the fact that we never really finished the fantastic Transformers: Universe coverage! We may not have added every last figure from that line to the Preserve collection, but we did make sure to snag all of the Deluxe figures. Always a good idea to pick up the last wave of any line due to future rarity, here is one of the two wave 6 figures, Ratchet! Sporting some classic colors, you gotta love a G1 1984 character, and they did a great job with this Ironhide repaint. The bio, as always, is great, teaching us about Ratchet's sour bedside manner as informed by memories of his partying past that is obscured by the harsh fog of present-day reality. Click the image below for his full bio and more pics.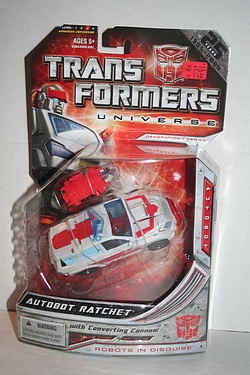 Posted by charlie on September 15th 2009, 08:27 PM
Leave Comment

Share
---
No comments have been posted.
---