News Details
Playmobil Set #4806: Ghost Pirate Ship
The Uncle
contacted me from Toys R Us in Times Square the other day, espousing his desire for the new Playmobil Ghost Pirate ship. Well, his heart is certainly in the right place because it is stunning! They've taken their normal ship design, and added a number of just-in-time-for-Halloween touches, including tattered sails, cannons firing through the hull, and a giant eerie crystal in the ship's bow to...channel psychic turbulence perhaps?? Click the image for a few more shots of our (yes, still sealed) set!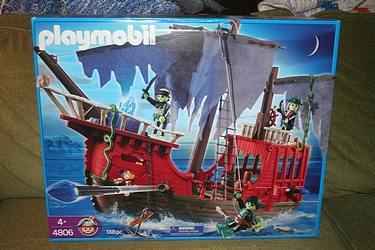 Posted by charlie on September 24th 2009, 10:29 AM
Leave Comment

Share
---
jerry
September 25th, 05:01 PM

crystal it may be...but with a core of pure selenium!
---