News Details
Masters of the Universe Classics - Tri-Klops
Evil and sees everything, here is Tri-Klops from the Masters of the Universe Classics Collection! One of Skeletor's go-to henchmen, we learn from his excellent bio that Scope (his 'real' name!) was an inter-dimensional bounty hunter who was hired by Skeletor for his skill as a hunter and swordsman. The accident that left him blind also made him wear that killer tri-optic visor that we all know and love! Click the image below for a few more shots of Trydor Esooniux Scope as well as our OCD case-break.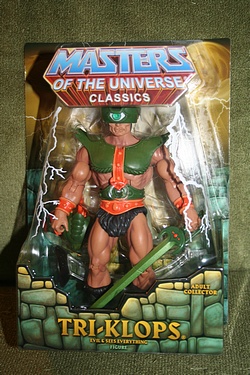 Posted by charlie on September 27th 2009, 06:54 PM
Leave Comment

Share
---
No comments have been posted.
---