News Details
Transformers: Revenge of the Fallen - Blazemaster
Turning our attention back to the
Transformers RotF
line, here is Blazemaster from the 5th wave of deluxe figures. This guy loves to hover over his Decepticon foes and douse them in corrosive gel - sounds effective! I do like how the alt mode is a TV news copter - since I still have not watched the actual movie I can only assume that this appears in the film. However, I know that some license is being taken with the upper waves of figures to extend the line, which I completely support. Click the image for some more shots and his full bio and specs.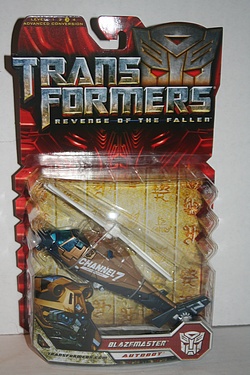 Posted by charlie on October 7th 2009, 09:25 PM
Leave Comment

Share
---
JgraeTF
October 8th, 10:09 AM

Geez, with a bio like that it's hard to believe he's an Autobot.
cparry
October 8th, 11:51 AM

Agreed - I was surprised as well.
---