News Details
Transformers: Revenge of the Fallen
So I do try not to get drunk on a Tuesday night - really I do. But, on an innocent Target run this evening I discovered the Target Exclusive Transforming Revenge of the Fallen BluRay disc - the same format as that of the first live action film. This time we have a Bumblebee shell that clumsily turns from dvd-esque shell to robot-esque thing, with 3 extra hours of genius auteur Michael Bay contained within! Well, as you all would expect, I could not resist purchasing this $30 monstrosity and watching it this evening! Having just finished it and innumerable beers, I feel confident in supporting all of my previous claims about the film - and in delivering these two salient points. Jetfire farts parachutes, and Wheelie becomes an Autobot when he humps Megan Fox's leg. That's really all you need to know about the movie, if you haven't seen it like me, unlike the rest of America according to the box office returns. Good night!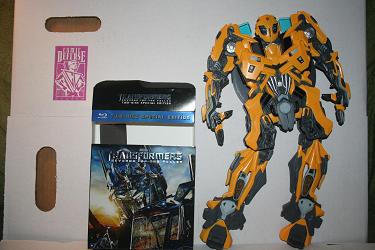 Posted by charlie on October 20th 2009, 11:05 PM
Leave Comment

Share
---
No comments have been posted.
---