News Details
G.I. Joe - The Rise of Cobra: Cobra Eel
I'm sort of in a G.I. Joe mood this week it seems, so let's take a look at another figure from the surprisingly awesome
G.I. Joe - Rise of Cobra
line. The Cobra Eel is often a scarce and highly prized figure to find on the shelves, mostly thanks to the troop building collectors and the often excellent accessories that come packaged along side. While not coming with the simply absurd number of pieces as Pit Trooper or Arctic Viper, you do get several guns of various scales, and some flippers. Hey, he's still a cool figure - click the image for our usual extra pics and the short bio!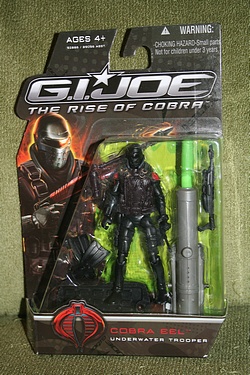 Posted by charlie on November 12th 2009, 07:42 PM
Leave Comment

Share
---
No comments have been posted.
---