News Details
Masters of the Universe Classics - Webstor
In celebration of the latest Mattycollector.com figure releases (Scareglow and re-issue He-Man) I wanted to feature Webstor from the
Masters of the Universe Classics
collection today. The figure from September, he has a great bio and played a part in many of the classic cartoons. This was a figure that Mattel tried to produce more of, in an effort to keep him from selling out so fast on line. Well, he lasted for 6 days which is a lot better than many of the figures. Maybe due to his second-stringer status, and maybe due to Mattel's upping of production - either way he's a great figure, and hopefully everyone who wanted one had a chance to place an order. Click the image for way too many pictures, and the bio for this classic figure!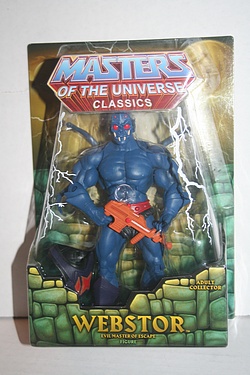 Posted by charlie on November 18th 2009, 05:37 PM
Leave Comment

Share
---
No comments have been posted.
---