News Details
G.I. Joe Combat Heroes - Barbeque vs. Storm Shadow
I never did manage to get around to posting all of the
Combat Hero
sets from the recent
G.I. Joe Modern Era
line, which is a shame given how often I say that I love that scale. Well, today let's take a look at Barbeque vs. Storm Shadow, that I managed to discover in a KMart not that long ago, surprisingly. Since the third wave of these figures was canceled (or, 'delayed') by Hasbro, wave 2 became the 'final wave' and therefore was in short supply. This piece was the last I needed for the set, so I should be able to find the missing pieces laying around the Preserve someplace and get them posted as well. Click the image for a few more angles of this great pair of figures!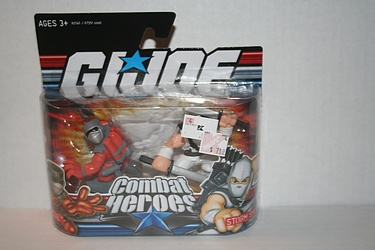 Posted by charlie on December 5th 2009, 07:32 PM
Leave Comment

Share
---
No comments have been posted.
---