News Details
Masters of the Universe Classics - Adora and Battle Armor He-Man
It's that time again over at
Mattycollector.com
, and they are kicking off 2010 with two new
Masters of the Universe Classics
Figures and a 'vintage' re-release! You can choose the first ever
Princess Adora
figure (She-Ra's alter ego) or
Battle Armor He-Man
, or pick up "The Original" (aka re-issue)
Beast Man
if you missed him over a year ago...or all three! BA He-Man was super cool back in the day (1984!), with the rotating chest plate that reacted to impact to spin around to a more 'damaged' look. Unfortunately the amazing gimicks of the '80s prove to be more than our space age science of the future can manage, and we get instead a removable panel with some 'damage' on it, but it's the thought that counts! Adora will be the first figure of the 2010 subscription plan, with BA He-Man being the bonus, so make sure you pick up the bonus even if you are a subscriber. Beast Man is definitely worth a moment too if you missed him the first time around. Good luck with the noon-time rush!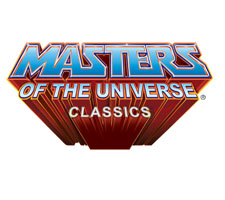 Posted by charlie on January 14th 2010, 04:22 PM
Leave Comment

Share
---
No comments have been posted.
---