News Details
G.I. Joe - Walmart Exclusive Mini Battlestation: Cobra Surveillance Port
One of the greatest surprises of the
Rise of Cobra
line, and it's one that Hasbro certainly hinted at before the line even got going, is the 11th hour inclusion of numerous 'classically inspired' sets and figures that are in no way directly related to the live action film from last summer.
Perhaps one of the best examples of these vintage-rific sets are the four 'mini battlestations' that were released as Walmart exclusives several months back. With packaging that opened up to diorama scenes, two figures with loads of accessories and a core battlestation of some sort in each pack for around $15, you really couldn't go wrong. Better still, these sets ended up on a 50% off sale several weeks ago, so if you were lucky enough to have had them stocked at all in your local store, you stood a chance of completing your collection for a song. Well, today let's take a look at the Cobra Surveillance Port - coming with a Trooper, a Tele-Viper and loads of parts and stickers, it's a window back to the '80s. Click the image for more angles of this set, the bio card for each figure, and more information than you ever needed on the use, removal and chemical makeup of temporary tattoos!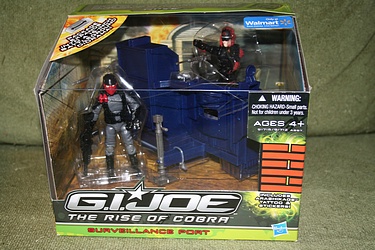 Posted by charlie on January 20th 2010, 03:49 PM
Leave Comment

Share
---
No comments have been posted.
---