News Details
Nintendo Entertainment System - The Legend of Zelda
I will never know how my dad was always on top of the coolest toys and games of the 80s. I did ask him once why he was compelled to get me all of the Transformers from 1984-1989, and he reminded me that he liked them too! I remember when the
Nintendo Entertainment System
first came out - this was the set with Rob the Robot and the game Gyromite (which will be featured soon). With this set he also picked up a copy of The Legend of Zelda and I'll always remember how impressed he was the moment the game started. After spending a career in the Computer industry he understood what a revolution it was in the technology, and it went on to be the favorite game of both of us to this very day. Click on the image below for a gallery of my original, classic gold cartridge!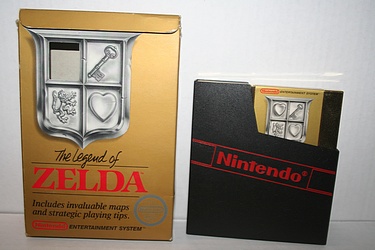 Posted by charlie on January 26th 2010, 08:32 PM
Leave Comment

Share
---
Heather
January 27th, 10:06 AM

Oh man, do you remember that first commercial? Where the guy is running around yelling, "Zelda? Zeldaaaaaaa!" and somebody's squeaking, "Tektikes! Octoroks!" I loved that commercial, and Zelda is still my favorite series.
Jason
September 10th, 07:04 AM

This is my favorite all time game as well. Although I don't have any of my original carts, a friend of mine was kind enough to trade me a CIB gray cart version. Maps and everything else that came with it. I do have a gold cart as well, just the cart though.
cparry
September 10th, 07:45 AM

Being who I am, I have to admire your gray cart version, as it is a variation on the more widely known copy of the game. Very cool that you have both! And always glad to meet another gamer who appreciates the roots.
---