News Details
M.A.S.K. - Switchblade with Miles Mayhem
Probably inspired, as were many lines in the '80s, by the transforming craze,
M.A.S.K.
stands apart as one of the best made, well engineered, creative and solidly storied lines to grace that great decade. One of the really iconic vehicles from the first season of toys is Switchblade, the conveyance of choice for Miles Mayhem himself! The springs in the wings of my helicopter/jet are still amazingly strong, snapping the wings into place as soon as the rear tail fin is flipped up into place. There's some 'automorph' technology for you! Note also that my original piece is sufficiently old/early in the line to have not had the mask 'altered'. Shortly after the first season of toys started hitting shelves, it was discovered that some foolish kids were eating or at least choking on the masks - the fools! As a result, they added a bunch of extraneous plastic to them in later releases, allowing one to quickly distinguish the two waves of product (but probably not stopping kids from popping them in their mouths). Click the image for a bunch of angles of the package, and of Switchblade and Miles with his Viper mask!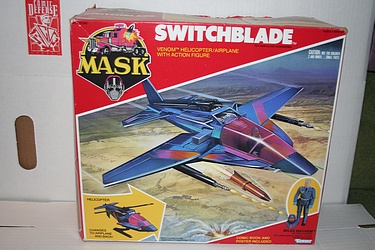 Posted by charlie on January 27th 2010, 05:34 PM
Leave Comment

Share
---
No comments have been posted.
---