News Details
TurboGrafx 16 - Blazing Lazers
As far as gaming goes, if I had to choose I think my very favorite genre is the shooter. Now, don't be confused by what is called a shooter these days, generally involving some sort of intense military combat. The games that really get my interest have a killer synth soundtrack, multiple insane weapon powerups, screen-filling bosses, wave upon wave of enemies and ascending skill levels guaranteed to filter out all but the most dedicated gamers. The
TurboGrafx 16
system had a number of fantastic games along these lines, and one of the few games I had for my original system back in 1989 was Blazing Lazers! Click the image below for a few more angles and details on the packaging of this great game, that has been in the preserve archives for 21 years now...whoa.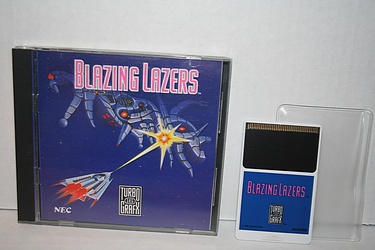 Posted by charlie on January 28th 2010, 12:22 AM
Leave Comment

Share
---
doctorkent
January 28th, 10:14 PM

I love this game. It suckers me in with the easy early levels, and then crushes you around Stage 4. BTW, you going to Toy Fair this year? LMK if yes! I'm finally going to make it. Hitting Hasbro on Saturday and the main deal on Sunday. No way to get into the Mattel thing, unfortunately.
cparry
January 28th, 10:26 PM

Agreed - after all these years I think I still haven't finished this game - I have a real problem about that in general!

I do in fact plan to cover Toy Fair again this year, and will be at the Hasbro, Lego and yes even the Mattel events, at least in theory! Also have my Playmobil appointment set, so I can at least promise good coverage of those 4 big guys - still need to call Mezco and a few others.
---