News Details
Nintendo Entertainment System - Hogan's Alley
The games that a system launches with can often make or break that platform - a statement that has become more true as time has gone by and which was a real strength of the Nintendo when it hit US shores in 1985. Known now as the "Black Box" games, thanks to their uniformly awesome pixelated cover artwork and otherwise black packaging, the original 18 titles were fantastically strong. Ranging from sports to platforming to their amazingly innovative zapper gun and robot - even to math! - there was really something for everyone. I have a number of these games as part of my original collection, though am considering filling in the gaps so that all 18 can be properly represented here at the Preserve. Certainly I'll post my originals first, so today let's take a look at Hogan's Alley! Making use of the Zapper, this game really was a cool new experience (along with Duck Hunt of course!). Click the image for more shots of my original game - I'm so proud of myself that I carefully hung on to the poster all this time - note that I checked off the few titles I had. Excitebike is coming up soon!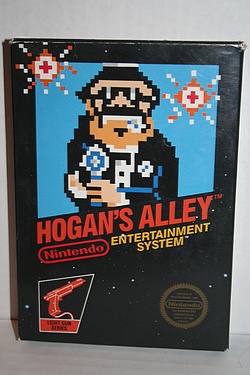 Posted by charlie on January 31st 2010, 06:10 PM
Leave Comment

Share
---
doctorkent
January 31st, 10:13 PM

I was always a Gumshoe man myself. Another one of those "I will never beat it if I live to be a hundred" games. Oh yeah, Hogan's Alley is fun too.
cparry
February 1st, 07:25 AM

Good call on Gumshoe! That's another one I was lucky enough to have back in the day, so I'll be sure to pop it up here soon. You better believe I never got very far in that either, but I certainly seemed willing to play the first few levels over and over.
doctorkent
February 1st, 08:05 PM

I heard some kid in Jersey made it to level 13... But seriously, I think I made it four levels in once. Just once.
---