News Details
TurboGrafx 16 - Bonk's Revenge
I know it's been a little heavy on the
TurboGrafx 16
this week, but I only had 4 games back in the day and I wanted to get my entire original set posted. Well, today completes that journey with Bonk's Revenge, the long awaited sequel to everyone's favorite headbanging Caveman. Created by the Red Company in Japan, where it was called PC-Genjin 2, Bonk is up against King Drool III, descendant of the first big boss. With most console systems, developers learned how to squeeze more out of the hardware as the months slid by, so we see a more advanced and slick presentation in this sequel. Maybe eventually I'll pick up Bonk 3 but there's definitely a premium with that, being the final installment in the series and having come out in 1993, near the end of life for the whole platform.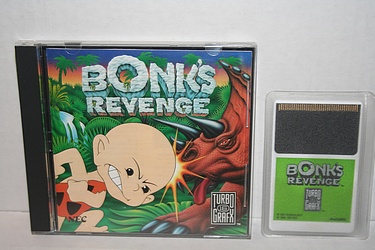 Posted by charlie on February 4th 2010, 01:25 PM
Leave Comment

Share
---
No comments have been posted.
---