News Details
G.I. Joe: The Pursuit of Cobra - Doc
Having finally returned to vintage posting in earnest here at the Preserve, I do assure you that it will continue. However, there are still a number of excellent modern day products and worthwhile news reports that keep cropping up, so I have to at least sprinkle those back into the vintage coverage as we proceed.
In particular, I have been greatly anticipating the new G.I. Joe line - rather a 'sub-line' of
The Rise of Cobra
which is to be known as
The Pursuit of Cobra
and have added an icon for it over to the right - with the red stripe. The first figures to hit from this line are, interestingly enough, exclusive to Toys R Us - I'm so glad TRU is doing such a great job in partnering with Hasbro! According to some
dedicated Joe sites
, the Pursuit of Cobra line is being pushed back until Fall 2010, but I suspect we'll have a lot more to say about this after we meet with Hasbro a week from this Saturday. In the meantime, check out this fantastic new TRU exclusive figure, and the first figure in the Pursuit of Cobra series, Doc! After being a
mail-away special
several years ago, it's great to see him get a larger release, and you just can't beat that amazing color scheme. Click on the image for his full gallery, and get ready for our Toy Fair coverage starting in just over a week.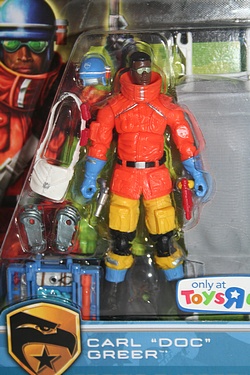 Also, you have to wonder which Hasbro execs get to have their fingerprints on the cardbacks.
Check out
the bio cards for this cool ongoing feature
Posted by charlie on February 5th 2010, 06:33 AM
Leave Comment

Share
---
No comments have been posted.
---