News Details
Sega Master System - Strider Import
Today's post is a great example of why I really need to keep pushing on cataloging the Preserve in the sort of methodical, overly-detailed way that I'm slowing attempting. I've been working on the full U.S. Release library of
Sega Master System
games, since there are only just over 100 of them to collect, and have just a handful of spots to fill in. It's a little tricky purchasing games on line because sometimes you end up with the 'Import' version of a cart that can often look the same at first, but the multi-lang back of the package is the giveaway.
Well, I think back in the day I wasn't so picky with this particular collection, and sometimes I'm surprised - like with today's Strider! In pulling this guy off the shelf and snapping a few pics, I realized that this is really the Euro version, go figure! Granted I can find no sign of a non-multi-lang cart on eBay, so for all I know there wasn't a strictly 'US' version - but hence the research and the hunt. That's probably way more obsessive detail than anyone needed, and it's still a fantastic game and cool to see the Master System version, so click the image below for a few more angles and the back-of-box write up. De Meester wacht!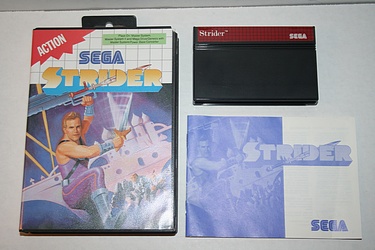 Posted by charlie on February 11th 2010, 08:34 AM
Leave Comment

Share
---
No comments have been posted.
---