News Details
Transformers Animated - Electrostatic Soundwave
I wanted to get the second half of the pair of new
Transformers: Animated
figures posted so as to bring balance to the toy list. Today let's take a look at Electrostatic Soundwave! I am so totally smitten with the re-imagining of Ratbat as having a keytar alternate mode. I admit that I didn't quite catch all of the tv shows that supported this line, but I really hope there was some Ratbat/Keytar rock-out scene - more than enough to encourage me to go back and catch up on my viewing.
As always, click the image for additional shots of this repaint of Soundwave and his bio and features. Also - Toy Fair begins tomorrow! Get ready for coverage direct from the top-secret Hasbro showroom starting around 5pm after the conclusion of my tour!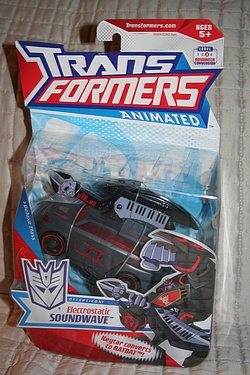 Posted by charlie on February 12th 2010, 08:34 AM
Leave Comment

Share
---
No comments have been posted.
---