News Details
Masters of the Universe Classics - Battle Cat
I've been pretty busy adding all manner of new updates to the Preserve, building out the
Transformers Animated
,
Batman: The Brave and the Bold
and
MotU Classics
pages. I didn't want to break out of the Toy Fair theme too much, but since Battle Cat just arrived yesterday I had to! This is the first 'oversize' figure to come out in the fantastically popular Masters of the Universe Classics line - and we saw several others featured at Toy Fair that we can also look forward to in 2010. The Horsemen have done a great job updating this most noble of mounts, and the Cat looks appropriately ferocious and commanding. Good thing Cringer stuck with He-Man during his long difficult quest, for the rewards of that dedication were many! The reunited Sword of He instilled Cringer with the Power of the Universe as well, allowing him to repeatedly carry He-Man into battle on his back...hmm maybe that's sort of a raw deal after all. Click the image below for the full gallery of this new beautiful figure.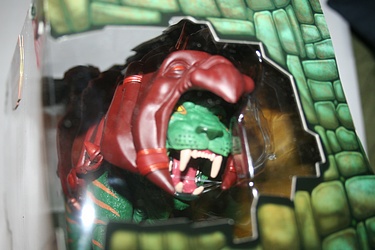 Posted by charlie on February 27th 2010, 11:07 AM
Leave Comment

Share
---
doctorkent
February 27th, 11:04 PM

What else was Cringer going to do with his life, lick himself in the sunlight of Eternia while living in one of the magical forests where every other thing seems to be alive? Imagine pissing on a tree that gets angry when urinated on and knows magic spells. At least living in the Eternian palace guarantees him political access to fight for the rights of large Green Tigers everywhere. Battle Cat: Political Activist.
cparry
February 27th, 11:51 PM

Excellent point about not pissing on the magic-using trees! Sounds like a good rule of thumb. Hey there's 1 day left to review Uzumaki for Final Girl's Film Club!
---