News Details
Toy Fair - SplashJack
I do like finding the little companies I didn't expect while at Toy Fair, and while walking down one of the many halls in the Javits Center one of those companies found me. A friendly guy stopped me in my tracks by handing me an oversized playing card, and as soon as you touch it you're interested. It's light, has a cool texture, and I came to understand is part of a floating playing card set. Simple idea, but fun execution and I'm sure great fun in the pool, especially near one of those bars you can swim up to. Better yet, they were introducing their new 'Splashimals' cards at the show. This set features cards with 1/2 of an animal on each one, so you can put two together and make a new absurd creature. Fun for kids, teaches linguistics....there is a lion but where is the tiger?! Well, as soon as I can make a Liger, I'm sold - here's to waiting for series 2! Click the image below for a few shots of their booth.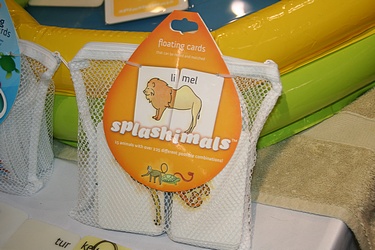 Posted by charlie on March 1st 2010, 08:23 PM
Leave Comment

Share
---
No comments have been posted.
---