News Details
Batman - The Brave and the Bold: Solomon Grundy
Let's sneak another figure in from the
Batman: The Brave and the Bold
line - Solomon Grundy! While at the Mattel event at Toy Fair I asked Toy Guru how the Batman BandB line is going, and he assured me that it is going strong into 2010. I'm concerned, however, that we only saw 1 new figure in their showroom, and it sort of has the feeling of a line that's being wound down. Target also just did a reset of their toy aisle this week and the previously sprawling BandB section has contracted to only 2 columns of pegs and a sliver of shelf space. Well, at least they managed to bring out a solid Solomon Grundy - click the image below for more pics - and I hope I'm wrong about the near-term future of this line!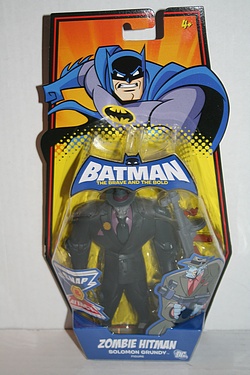 Posted by charlie on March 8th 2010, 08:48 PM
Leave Comment

Share
---
No comments have been posted.
---