News Details
Batman - The Brave and the Bold: Bladewhip Batman
From an expedition to a great number of 'Toy Stores' today (meaning Target and Walmart, though at least there was a Toys R Us thrown in the mix) I can say with some authority that Bladewhip Batman is the current peg-warmer of the
Brave and the bold
line. I had hoped to track down some of the missing basic or deluxe figures to get rid of some of the pesky question marks on my checklist page, but all stores seem to be cleaned out of previous waves. The best finds were a Batman vs. Gorilla Grodd at TRU, and a Battle Cycle at several Targets. A few of the new Action League packs did turn up which was a welcome sight, though of course no Scarecrow or Joker sets were around. Little love was forthcoming from the DC Universe Classics line either, though a variant Cyborg and wave 6 Hawkman were not bad I suppose. Of course, finding the new Masters of the Universe vs DC 2-packs at TRU was pretty cool, but far from the promised end cap they were hidden away next to the Mezco Mez-itz and Warcraft figures. The store did appear to have three sets of the two packs, so I'm hoping that everyone is finding what they need.
Well, after all of that sort of lame hunting report, let's take a look at the afore mentioned Bladewhip Batman. One of many repaints of Bats in this line, which Toy Guru is claiming that the stores are demanding as the only type of character if this line continues, I still think that the bold colors and bright accessory make this a distinctive and fun character. Too bad that he's warming the shelves, but if they'd ship a few more and different figures I think it would get things moving again. Click the image for the gallery of this figure!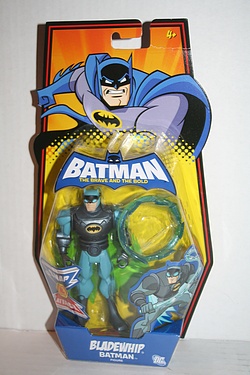 Posted by charlie on March 13th 2010, 10:31 PM
Leave Comment

Share
---
No comments have been posted.
---