News Details
Batman - The Brave and the Bold: Exo-Claw Batman
I'll just make it a
Brave and the Bold
weekend I guess by finishing up this Sunday with Exo-Claw Batman. It's like a microcosm of the new Mattel Paradigm...all Batman all the time! Who wants villains for him to fight or, perhaps, a sidekick (Robin anyone?)? Nope...retailers are asking for Bats and here he is! This is another hard-to-find deluxe set these days, and I sure haven't seen another for weeks. Best of luck if you're just starting out on this collection! Click the image for a few more shots of this Deluxe figure set, and be sure to look at the
checklist
for the best I can come up with in terms of a picture of the overall series.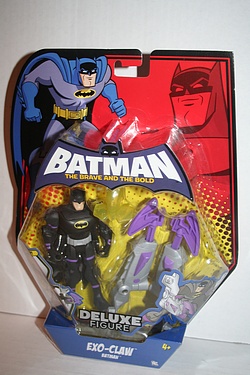 Posted by charlie on March 14th 2010, 08:16 PM
Leave Comment

Share
---
doctorkent
March 14th, 10:04 PM

The Batmen I want are the ones that come with Metal Men vehicles. There are pics online... And of course the kids just want Batman! He is the awesomest! I just wonder how they decide what Batman wins when two kids are playing and all they have are Batmen. Do the colors give him more powers? Is the colorwheel of Batmen like the sun-fire-water of yesteryear?
cparry
March 15th, 06:11 AM

Yeah those sets are really fantastic - gotta love the giant Iron face on the Attack Copter. I've not seen a trace of those in stores, but hold out unreasonable hope...I mean, they are Batman figure sets so at the very least we have that in our favor... I think that's what is missing from toys today - rubsigns! Actually I guess it's good that those Gormiti don't have them, or I'd be entirely unable to resist their Battle Beast-ness.
---