News Details
TurboGrafx-16: Sidearms
Another
TG-16
title from the hallowed Steen collection, today we take a look at the 1989 title, Sidearms! Radiance Software brings us another entry in the fantastic Shooter genre that was so strong for this system, and offers the classic mix of challenge and opportunity of mastering through practice that is so rewarding with these titles. Click the image for a few more pics of this classic game and be sure to check out my (admittedly hasty) manual photos (so much more fun than scans don't you think?) for the special Cosmic Cow (aka 'little dogie'!) random drop item.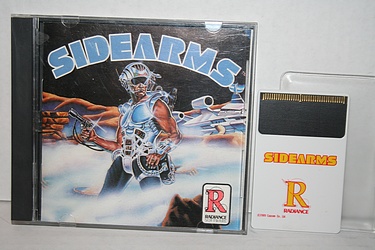 Posted by charlie on March 16th 2010, 07:27 PM
Leave Comment

Share
---
doctorkent
March 16th, 08:52 PM

Great game. A favorite in both the Kent domain and elsewhere. I never played it until last year - worth the effort to track down for the fan of shooter games.
cparry
March 16th, 09:10 PM

Totally - I really like the one-button-shoots-forward / one-button-shoots-backward interface if for nothing else than because it's smooth and novel - always cool to discover a new way of blasting a million ships out of the air and picking up cow bonuses.
---