News Details
Batman - The Brave and the Bold: Batman vs. The Demon Etrigan
Another set from our favorite scale comes from the
Batman - The Brave and the Bold
line, where we have Batman vs. The Demon Etrigan. It's sort of too bad that I'm so into this toy line, but haven't seen a single episode of the cartoon upon which it is based, so I'll just have to trust in the package text that tells me how
"Only the demonic power of Etrigan can break the spell that transformed Batman into the sinister Dark Knight."
Sounds promising for sure, and I'm glad that they made a set of figures to commemorate that episode! Click the image below for a few more shots of this pair, in what we feel are the last throes of this line!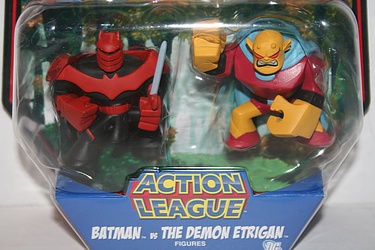 Also, I didn't forget about the Preserve contest from last week! I've tabulated the results, and the great stories of the winning entries will be posted soon!
Posted by charlie on March 20th 2010, 06:42 PM
Leave Comment

Share
---
No comments have been posted.
---