News Details
GoBots - Figure #19: Royal-T
I wanted to post late today so as not to distract anyone from reading the
great contest entries
that came in last week, so if you haven't already done so, get to it! I couldn't resist adding another GoBot to the Preserve archives, so today let's take a look at #19 from 1985, Royal-T!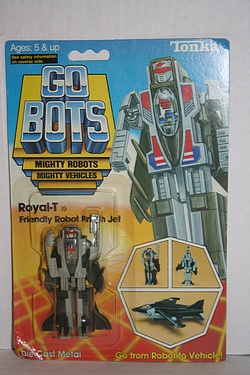 With the handle of being a 'British Jet', or more precisely a
Sea Harrier FRS1
I believe, this was always one of my favorites as a kid. Even though the wings had a bit of a floppy feel as you went from vehicle to robot (and back!) it was still such a great looking jet mode and the colors were so military drab that it was that much more amazing to see a robot emerge from that unsuspecting shape. Click the image below for a carded example of this great figure that we have stashed away in the physical archives.
Posted by charlie on March 22nd 2010, 07:09 PM
Leave Comment

Share
---
doctorkent
March 23rd, 07:59 PM

This was one of the 1st Gobots I had as a kid. Still a favorite, although he quickly becomes floppy crap when you play with him.
---