News Details
Reactors: Retriever-RR1
Let's step back 21 years to the very end of the '80s, the bold and still awesome year of 1989. Nasta was making their final stand with their Reactors line, which is one of the little known lines that I re-discovered in the archives. The Retriever-RR1, the largest of the Reactors vehicles, is designed to retrieve other team members and bring them back to base. It makes use of the mind-blowing 'power rod' technology like all other sets, and strikes an impressive pose! There are 10 parts to this series, mostly split evenly between the Speed, Power and Function categories but this one stands alone. If only Nasta had been able to sell more of these, just imagine what else we would have seen in the Retriever line! Click the image for more shots, and the small functional bio.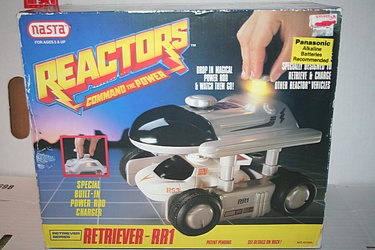 Posted by charlie on April 13th 2010, 06:15 PM
Leave Comment

Share
---
No comments have been posted.
---