News Details
Masters of the Universe Classics - Lex Luthor vs. Skeletor
The Toys R Us Exclusive MotUC figures....the only two pieces of this line (yet!) to make it to general retail, were as the wording implies, a set. Therefore, I feel remiss in omitting the coverage of the Skeletor pack since He-Man vs. Superman had its day in the sun. Well, that day has come (6 days later) and let's take a look at a (perhaps a bit forced but still awesome) 2-pack of Lex Luthor vs. Skeletor! This reminds me of having a sleep over when I was 8, when you would pose the eternal question 'who would win?!' Well, who would? Let me know!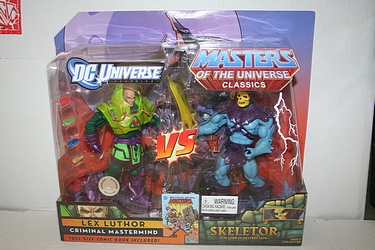 Posted by charlie on April 15th 2010, 08:26 PM
Leave Comment

Share
---
doctorkent
April 15th, 09:12 PM

Good question. Skeletor has magic, while Lex knows science inside and out. Silver Age Lex though, with his funky green armor and many shades of kryptonite...if he could find a way to neutralize the magic, he might be able to pull it off. If DC had done a full run of comics with the Skeletor as featured in these books, I don't think Lex would stand a chance.
cparry
April 16th, 06:45 AM

Excellent observations! I'm additionally inclined to wonder about henchmen, and if each foe is permitted to drum up their army, though that does seem outside of the original pure simplicity of A vs. B.

If I was in the blanket-fort in 1983, held up as it was by Snake Mountain and Eternia, my money would probably be on Skeletor just to keep it thematically appropriate!
---