News Details
Transformers Universe - Perceptor Commemorative Edition
While I do have at least three of the original Perceptor figures in the archives, two of which are boxed, I have to give great credit to the Toys R Us Exclusive 'Commemorative Edition' figures that were released in October 2009. Made from the classic molds, and packaged in solid, bright and well designed display boxes, the Perceptor and Insecticon sets are actually worth the $35 tag. Click the image below for some more angles and the bio and stats of this brilliant Autobot scientist - there should still be a few left at your local TRU if you hurry!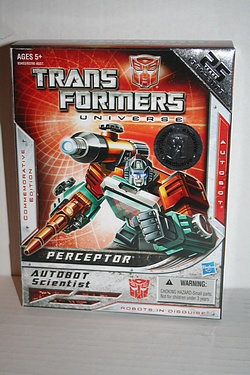 Posted by charlie on April 21st 2010, 07:15 PM
Leave Comment

Share
---
No comments have been posted.
---