News Details
Transformers Universe - Insecticons Commemorative Set
Looking at that beautiful picture of Perceptor from yesterday, it's really impossible not to follow it up with a nod to the other half of that Toys R Us Exclusive release, the Insecticons 3-pack! Strangely enough, I remember back in the early 90s when news groups were all the rage on the Internet, the Transformers Newsgroup was very active and a very exciting way for fans to finally connect with each other from around the world! Somehow, back around that time, a huge amount of mint boxed G1 Insecticons - and I mean Kickback, Bombshell and Shrapnel, not those 'deluxe' guys, mind you - somehow came to light and could be had for a low price, a decade after their initial release! Well, interestingly that sort of depressed the price and collectability of those three figures for a number of years...maybe still to this day, but this commemorative set is simply beautiful! I have to give a big Tip of my Hat to Hasbro for this one, and also to TRU for taking a chance on these amazing exclusives! I do worry that you can still find these in stores months after their release, so do your duty and pick up this great set so we can maybe see a few more in 2011!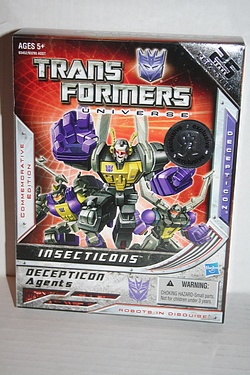 Posted by charlie on April 22nd 2010, 09:36 PM
Leave Comment

Share
---
No comments have been posted.
---