News Details
Sega Master System - Psycho Fox
Now that the
Batman: The Brave and the Bold
line is all but put to rest, I feel that it is high time to return back to the business of wading through some of the classic games littered around the Preserve. Today let's take a look at Psycho Fox from 1989 for the
Sega Master System
.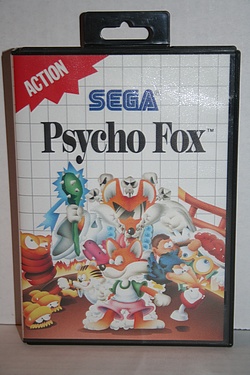 This is a mid-level game in terms of scarcity and price on the eBay-ish markets, and features classically bright and lively box art that I of course am drawn to immediately. Better yet, the text on the back of the box seems to directly reference and attack games on other platforms, mentioning "Mother Brain" in particular - zing! Well, click the image for more pics of this great SMS title, and to read the full box text.
I've also started taking pictures of every page of the instructions, which can be found at the end of the detailed item listing. Personally I enjoy such contextually-rich imagery more than a sterile (and cleraly easier to read!) scan - guess I'm just funny that way - enjoy!
Posted by charlie on April 26th 2010, 01:05 PM
Leave Comment

Share
---
doctorkent
April 26th, 02:52 PM

I always wanted to play this, based on an old EGM mention. How is it?
cparry
April 26th, 05:35 PM

They sure don't make 'em like this anymore! A cool, and quirky game. Its spiritual sequel is apparently 'De-cap attack' - go figure!
doctorkent
April 26th, 10:46 PM

Decapattack! One of the Doctor's impossible favorites. Wasted a night earlier this year trying to beat that "classic".
---