News Details
Mattel - Xtractaurs...Huh?
At the
2009 Toy Fair
I was able to tour Mattel's booth and see all of the cool products that they were about to unleash on an unsuspecting public. One of the great lines was Xtractaurs, that combined sharply designed 5" scale dinosaurs with a computer game and 'DNA Extraction Gun' - that allowed you to take characteristics of your toy and add them to your online fighting dino. Fun idea, fun looking figures, and they lasted about 5 months.
Look, I know that every year almost all products rise and fall like the tides. All I can do here at the Preserve is try to save a few, and for whatever reason Xtractaurs has fallen into that bucket in it's 11th hour. TJ Maxx was goodly enough to get some of these and put them on clearance, which was all the excuse I needed! Of additional interest is that any and all information about them on line seems to be drying up fast, so I felt it was time to make a
checklist and gallery
! As such, go check out this line you might never have heard of, and see what you think!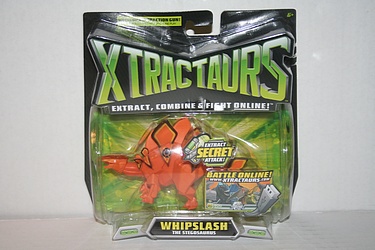 Posted by charlie on May 19th 2010, 12:02 AM
Leave Comment

Share
---
No comments have been posted.
---