News Details
Masters of the Universe Classics - Weapons Pack
Time once again to feature a set from
Mattel's
smash hit
Masters of the Universe Classics
line! But first, let me just mention that the
Walter Peck
figure has finally sold out on
Mattycollector.com
. You see, every time a new
Ghostbusters
figure is released, and then sits there patiently while all the He-Man and, well, really just He-Man, figures sell out in minutes, it doesn't give one much hope for the line. Granted Walter may have been made in lower numbers than previous GB efforts, due specifically to those lower sales, but at least he's done in just over a weeks time. Probably won't keep the line alive, but at least it's not totally embarrassing!
Ok, let's get on with it. Today we take a look at the fantastic Weapons Pack (Ultimate Battleground Assortment!) which was released as the bonus set for April. It stuck around for as little time as anything else branded with the stamp of this line - only 15 minutes! For the price of $12 you really get a great assortment of accessories, in '80s triumphant colors no less. I think they have claimed that a re-release is in the cards (don't quote me on that) so if you missed it the first time around you will hopefully have another shot later. Click the image for the full gallery of this great addition to their already smash-hit line!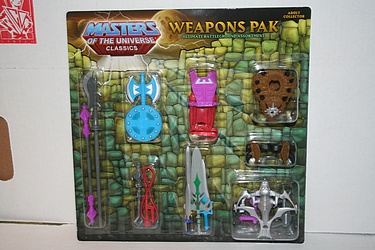 Oh, and can someone explain to me why Mattel keeps taking out full-page ads (more than one a month!) in Toy Fare magazine, advertising this line? Not only is it frustrating for people because the characters pictured are often all but unobtainable, selling out in mere minutes, but the advertising expense could be put towards figure development, extra accessories, or at least a beer fund for the Horsemen! Well, I guess TF is probably hurting for money like the rest of the print industry, so it's nice of Mattel to throw them the revenue. I'm just saying, is all.
Posted by charlie on May 25th 2010, 12:48 PM
Leave Comment

Share
---
No comments have been posted.
---