News Details
TurboGrafx-16: Legendary Axe II
I have made what is known as a 'deal' with myself. Namely that I will not add any more
TurboGrafx-16
titles to the Preserve archives until I've finished posting the ones that are already laying about! Seems a reasonable enough position, especially since I'm only a few away from that goal. That sort of deal would be a little tougher with the
Sega Master System
, where I've got about a 100 title backlog! As such, today let's take a look at Legendary
Sword
Axe II. How is the first one? Well, I don't know, but I'll get it as soon as all these current games are posted, darn it!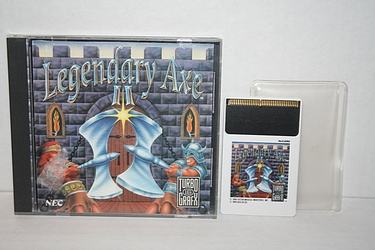 This game joined the Preserve by way of Steen, a man of mighty knowledge in both the gaming and toy worlds. You'll notice that name next to many of the titles currently in
the TG16 archives
.
Brought to us by Victor Musical Industries, Inc (awesome) this game has a fantastically thorough back story serving to bridge between the initial title and the sequel. You'll just have to click on the image to read all about it! Victor also brought us such popular titles as King of Casino and Veigues Tactical Gladiator, both of which are also now on the radar.
I was a little taken aback when the primary weapon of the game turns out to be a sword, but this is due, as you would expect, to the entire franchise being named as the result of a mistranslation. It turns out that a better English version of the Japanese title "Makyo Densetsu" would have been "Demon Legend", which is apparently better confronted with a sword than said Axe. Either way - a fun title, and another welcome addition to the archives!
Posted by charlie on May 26th 2010, 07:56 AM
Leave Comment

Share
---
No comments have been posted.
---