News Details
A-Team Figures by Jazwares - Murdock
Several months ago at the New York Toy Fair, a helpful booth attendant at one of my stops asked if I had seen the new A-Team prototype figures yet. "NO?!!" I excitedly replied, and I was directed to the Jazwares booth (who?) down in action figure alley. Sure enough, they had what were already looking like some excellent figures, and news that they were going to make a scale and paintjob accurate classic GMC van as well - with electronics! Catch was that I couldn't take any photos...bummer...and dude never contacted me after the show (but, in fairness I didn't follow up either).
Several weeks ago the press release finally hit, and pictures were available of their new product line supporting the movie - and I think they still look great! I didn't jump on board the release at the time, since every other site carried it, but today in Target I found the first wave of their 3" figures, and simply had to bring Howling Mad Murdock home!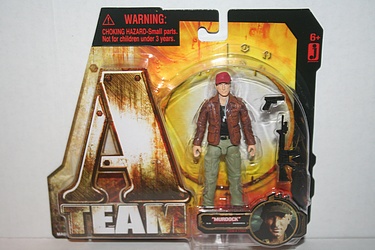 I really dig the job that they have done with the packaging, and I think that the figure is really well done. He comes with just the right amount of accessories (2 guns) that helps them maintain the perfectly reasonable price of $5.99 (vs. the GI Joe debacle of last year, as admitted by Hasbro). One complaint I have is the lack of a character-specific bio on the card backs, but we all know these guys pretty well as is. Click the image above for more shots of this great figure, and on the strength of this I might have to collect this
whole line
! As B.A. was fond of saying about Hannibal, and it seems more true now than ever,
He's got the Jazz!
Posted by charlie on May 29th 2010, 12:55 AM
Leave Comment

Share
---
No comments have been posted.
---