News Details
Transformers Animated - Arcee
At long last, I managed to track down two copies of the highly elusive Arcee figure which is available only as a Toys R Us exclusive. I'm convinced that the only reason I did eventually find her was that a helpful TRU employee went to the back to double check their inventory for me, and returned with a full case of the two
Tf Animated
exclusives - happy day! I was delighted to be able to open this figure - the first
legit
Arcee figure, I maintain, and clicking the image below will provide more packaged and open shots. I'm even mostly able to transform her, which these days seems to be quite the accomplishment! Hasbro usually outsmarts me, but I'm glad that this figure, which I've so hotly anticipated, is just as much fun as I hoped she would be!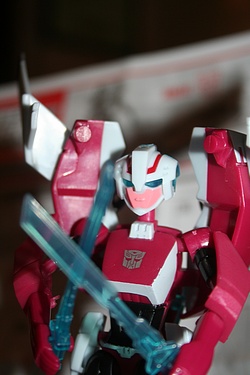 Posted by charlie on May 30th 2010, 06:52 PM
Leave Comment

Share
---
No comments have been posted.
---