News Details
TurboGrafx-16: Galaga '90
Friend of the Preserve, lilmatt, wisely remarked recently that the Parry Game Preserve is more like the Parry He-Man Preserve lately! Well, I do have to agree, smitten as I have been with some of the new product that Mattel is cranking out, but I appreciated the reminder to keep the ol' coverage balanced. In that spirit, here is Galaga '90 for the
TurboGrafx-16
system!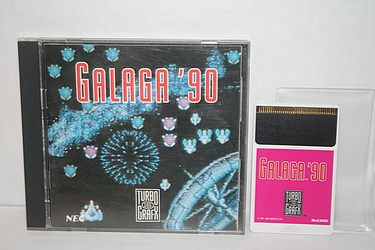 Armed to the max, he vowed to chase them across the galaxy, from space stations, to ice planets, to intergalactic graveyards. Because this time, he had something special on his side...the awesome Triple Fighter!
Are you excited yet? Well you should be! Known in the arcades and the PC Engine as Galaga '88, it was ported stateside to the TG-16 as Galaga '90. It represented a significant graphical upgrade to the classic tale. Of course, the Granddaddy of them all was 1979's Galaxian, so respect where it is due. Click the image above for more shots of the physical manifestation of this Preserve title, again from the Steen collection.
Posted by charlie on June 5th 2010, 07:14 PM
Leave Comment

Share
---
No comments have been posted.
---