News Details
Ghostbusters - Walter Peck
In celebration of, well, I guess Sunday, let's take a look at the fantastic Walter Peck figure that Mattel released in their
Ghostbusters line
on this past May 17th. It's interesting that he made it to the virtual shelves before the full GB team was complete, lending further credence to my suspicion that Bill Murray wasn't keen on the likeness of himself and had it redone a few times. Interestingly, the only 6" Venkman that has been unveiled is the 'slimed version', leading fans to clamor for a proper 'clean' version that will display well with the rest of the set. But, no matter, it is fantastic that EPA agent extraordinaire Peck made it into the set, and he comes with an absolutely stunning Ecto Containment Unit! Better yet, the trap that came with the
Winston figure
will fit into this piece, so when the light is green, the trap is clean. Click the image below for more shots of Peck - I am so proud of Mattel for their brave inclusion of his fourth 'attribute' - check it out!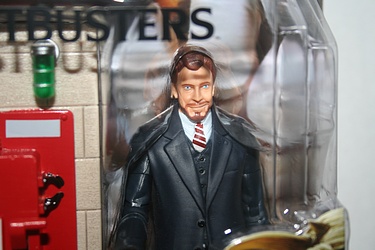 Posted by charlie on June 6th 2010, 02:12 PM
Leave Comment

Share
---
No comments have been posted.
---