News Details
Reactors - New Additions!
It is an exciting day here at the Preserve, as progress has been made on one of the long-standing quests to which I've put myself. Not one, but two new additions have been made to the
Nasta Reactors collection
, and fabulous secrets were revealed to me!
First off the
Reactorwinch-RF1
. This is the first, and apparently only, entry in the 'Funcional Series', which makes one wonder what else may have been on that Nasta drawing board when the plug was pulled.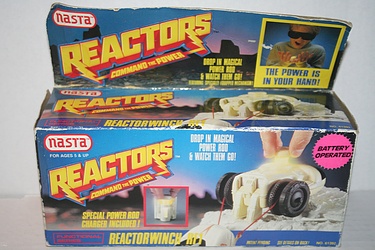 The example here at the Preserve is a little rough around the edges, but contains a mint item with sealed bags, strangely tall instructions, unused stickers and never-opened cardboard packing! The tape was slit when I received it, which is nice since I'd never do it myself, allowing me to get some good shots of the interior contents.
As much as I am fascinated by the Reactorwinch, the real story comes from the
Illuminator-RC1
. From looking at the checklist on the back of every vehicle package, it was pretty clear that while the Speed and Power series each contained three items, the Functional Series was limited to one piece and the 3x3 grid was filled out by two mysterious 'RCx' items. What did that mean? Was it a typo? They certainly seemed to be funcional themselves?? Well, last week was the very first time I have ever seen either RC1 or RC2 for sale, and I managed to pick up the Illuminator from eBay. Thank my lucky stars I guess.
It arrived last night, and I was delighted to learn two things: The packaging for this line is not standard across all sets! I don't know why this fascinates me so much, but given the difficulty in finding pieces from the line, any knowledge gained feels very valuable. Additionally, all other entries in the line so far have been consistent, so this departure stood out. The box for the Illuminator is pictured next to the Reactorwinch for comparison. Click it for a larger view.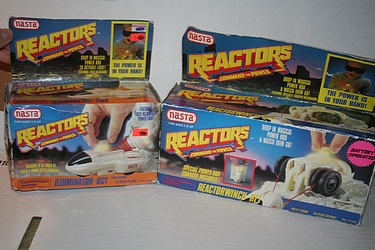 The other mystery of the universe which was solved is that the 'C' stands for 'Companion'! Specifically, a note on the box front instructs that they are "
Designed to be towed by speed & power series Reactors
". How exactly that is supposed to be accomplished is beyond me, sadly the instructions are lacking for this piece, but we may some day learn! Also be sure to check out the
fascinating writing
on the inner flap of the box. I like to imagine it is hand written, but it just can't be....can it?
Lastly, I was particularly excited that these additions allowed me to win the game of Nasta Reactor Tic-Tac-Toe that was being played on their
checklist page
. In summary, let's get a closeup of the Illuminator as well.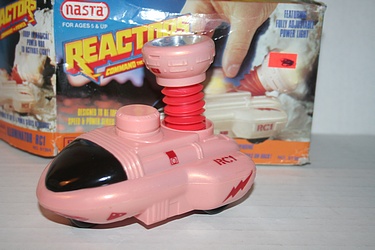 Posted by charlie on June 10th 2010, 08:59 AM
Leave Comment

Share
---
No comments have been posted.
---