News Details
TurboGrafx-16: Pac-Land
Today it is time for Pac-Land on the
TurboGrafx-16
system. This game would fall squarely in the range of titles that are considered 'affordable' or even 'lower tier' in the TG16 library, classed along with the likes of Final Lap Twin and TV Sports Football. Well, that pricing trend does a lot to hide the good and noble history of this title, a glimpse of which I shall give you today!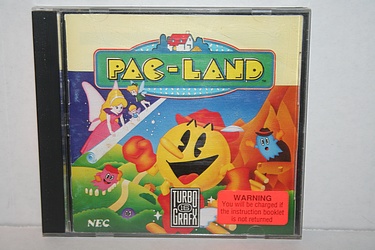 The game was first released in arcades in 1984 (the Greatest Year!) by Namco, and in the states by Bally Midway. It was one of the very first games to feature what would become the extremely commonplace side scrolling platform style, beating Super Mario Bros. to market. Along with that UI, some objects in the background also featured parallax scrolling - where clouds or distant elements would move at a different rate than closer elements - a method that would not become widely used until far later in gaming history. This title was ported to a tremendous number of home systems, and found itself among the illustrious US release list for the TG-16, and here it is for you to see! Click the image above for more shots of this fun and historically interesting title. And remember: you will be charged if the instruction booklet is not returned.
Posted by charlie on June 11th 2010, 08:03 AM
Leave Comment

Share
---
No comments have been posted.
---