News Details
A-Team: B.A.'s GMC Van
Jazwares brings us the GMC Vandura. From an era when cars were as notable stars in a production as the men and women mugging for the camera, there can't be many people who grew up in the '80s in the US who won't recognize this vehicle almost instantly!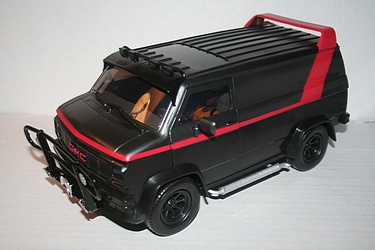 I think that they did a great job capturing the lines of the vehicle, and it displays wonderfully. The sideview mirrors and the rhino on the front are strangely rubbery when you get up close and personal, but again this is a great display piece, not meant to be roughly handled. The front doors open, and the side door slides back in a delightfully authentic way! My one complaint is the unnecessary 'lights and sounds' feature. Not only is there very little to the lights and or sounds, but the electronics for them seem to take up most of the back of the van and cause the rear doors to be unusable. The effort and price of that system could have been put into the (already affordable at $25) van, making the back doors work, and maybe beefing up those rubber pieces. Overall though, for that price, I have to give a big thumbs up to this classic van that is scaled to 3 3/4" figures. Joes anyone?
Posted by charlie on June 12th 2010, 08:02 PM
Leave Comment

Share
---
No comments have been posted.
---