News Details
Batman - The Brave and the Bold: Final Vehicle Packs
The Internet forum rumors were true - that KMart of all places is proving to be one of the last major stores to stock this
Preserve favorite line
. I finally got the chance to look into this rumor first hand, and low and behold I was then able to fill in the remaining two slots in the Vehicle collection list! The hard-to-find sets of
Rocket Blast with Firestorm
and
Attack Sub with Batman
(and the Lead Metal Man!) were sitting right there on a bottom shelf, though the rest of the pickings were slim at best. Click the image below for a larger view of the KMart haul, and be sure to check out the full
Batman: The Brave and the Bold Checklist
!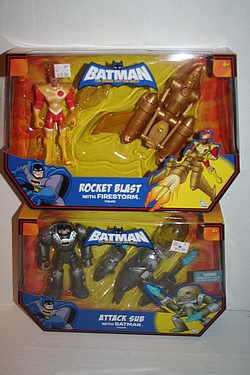 Collector Note:
Very early packages from this line indicated a cross-sell of Arrow Blast Green Arrow (deluxe figure) which never appeared in stores. Now, examples of it are turning up on line on the 2010 cardbacks - looks like he made it to retail at long last! Keep an eye out for this one, it is sure to be scarce.
Posted by charlie on June 14th 2010, 06:56 PM
Leave Comment

Share
---
No comments have been posted.
---