News Details
TurboGrafx-16: Parasol Stars
Let's wrap up the week with another
TurboGrafx-16
game, Parasol Stars! This title is part of a proud and long running franchise that you may better know as Bubble Bobble. I certainly spent many a glad hour as a wee lad playing said title on the NES, where doing a full run-through in 2-player mode was one of the very favorite sleep-over activities. Quite honestly I've never been a real hot shot gamer, even in mah prime, but I did always fancy that I was pretty solid with the dragons and the bubbles, and zapping the daylights out of the end boss (named Super Drunk!) with the towers of lightning bubbles was reward enough to keep me coming back over and over! Trick was that both players needed to survive the fight, or you didn't get the good ending. That always made for some tense times!
Here then we have the story of Bubble Bobble III, in 16 bit glory. I never quite got over the simple charm of the original, I guess because I always value those early experiences most of all, but this game has plenty to enjoy as well. In spite of rumors at the time (1991) of this game having an arcade equivalent, the truth appears to be that it was written for the PC Engine specifically, then ported over to these shores by Working Designs.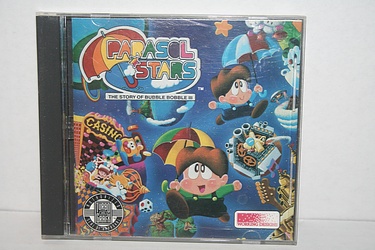 The stars of the show here are the 'human forms' of the main characters, Bubby and Bobby. I do far prefer Bubblun and Bobblun, their 'bubble dragon' names, but you takes what you can gets. Amusingly the backstory tells us that evil has returned to the world because the pair of them were so enthralled by their new magic Parasol gifts that they didn't see all the warning signs. Foolish humragons! Well, they now have 8 entire planets (plus 2 bonuses, one of which is supposed to be a bubble world - yay!) to go clean up, so I hope they, and you, are ready!
Posted by charlie on June 18th 2010, 08:28 AM
Leave Comment

Share
---
No comments have been posted.
---