News Details
Funspot - Weirs Beach, NH
I am a huge fan of arcades. Having spent much of my youth bumming around the local arcade
Challenges
in the Willow Grove Mall, in the suburbs of Philadelphia, I was immersed first-hand in what (I would later come to learn) was sadly the decline of the original arcade industry. The transition to more 'violent' games rang in the end of the 'classics' and the notion of the dreaded 'family fun center' or 'kid gambling' as I always thought of it, took over arcade by arcade like a blight. I still always had an amazing time, getting to play, Smash TV, Pac-Man, Double Dragon, Teenage Mutant Ninja Turtles (beating which with best friend Ryan was a weekly ritual and a $20+ habit), and the sit-down Afterburner, on the rare weeks where the hydraulics were actually working. My arcade often had a few fun new pins as well - playing the Terminator 2 machine to coincide with the release of the movie was particularly memorable! It is therefore always very exciting to find and visit a surviving arcade, so many years later.
This brings us to Weirs Beach, New Hampshire. Not only does the boardwalk in this small resort town feature several perfect classic boardwalk arcades, with some real vintage machines going strong, but there is also a labor of love not many miles up the main road. If you aren't an arcade enthusiast you likely have not heard of
Funspot
, but the Guinness Book of World Records has, as it holds the title of the largest operating arcade.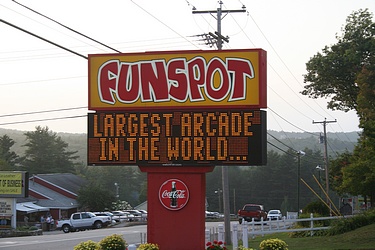 They have a truly intelligent business model - wherein under one giant roof exists bowling, skee-ball, redemption (shudder), a bar, retro-mini-golf, and the American Classic Arcade Museum. While the rest of their facility is plenty of fun, and you could spend many a happy hour rolling for the pins or throwing a skeeball to win some tickets, exchangable for groucho glasses or a spider ring, the real key is that classic museum. And, as with any good gaming museum, the machines are all playable. When coupled with their
fantastically easy to obtain coupon
, you get so very much playing time and entertainment for $20. Better still, you know you're helping to support a truly important endeavor for fans of history, fans of gaming, and fans of the last 30(+) years.
In 2008 I visited and secured permission to snap some photos of their classic arcade. While I didn't get every shot that I had hoped, being not yet as well steeped in the rigors of Toy Fair and other convention photography skills, I did manage to get 150 images, mostly singles, of their huge collection. Given that I don't even have a picture of all of the classics, let alone the pinball machines, that gives you an idea of scale. Looking at the huge set of wonderful imagery, I honestly didn't know how to organize it, so I have simply thrown them all on a page to be enjoyed. I've added titles to the first 30 or so images, but for now the rest are left as an exercise to the reader, which I highly encourage you to be! I may be fortunate enough to make a return trip to this important location sometime this year, and will hope to return with an improved and updated photoset. Add this one to your list of places you simply must visit if you have ever been a fan of the arcade.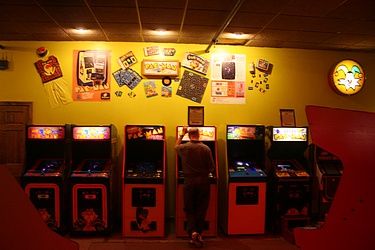 (I adore this image - click for larger view)
Posted by charlie on June 25th 2010, 07:40 AM
Leave Comment

Share
---
No comments have been posted.
---