News Details
Lego - Shuttle Adventure (#10213)
As NASA gets closer and closer to 'retiring the space program' as I often mistakenly say, I find that I am filled with increasing nostalgia for the shuttle. Growing up in the 80s, that vehicle
was
space flight for kids who were interested in such things. Seeing it sitting on the launchpad, with the classic silhouette and a night's worth of condensation burning off in the early morning sun holds such promise, hope and technical wizardry. Now of course the remaining shuttles are being mothballed, probably within the year but the date of the last flight keeps being pushed out. Either way, if I were up in the space station currently, I'd be a little worried!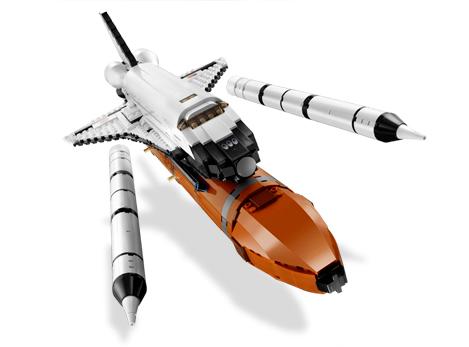 In keeping with the observance of how awesome the shuttle is, and what a shame that we're turning the page in our space initiatives (hopefully, though, for the better) I wanted to point everyone towards this simply fantastic Lego Shuttle Adventure (#10213) set! Gracing the front cover of the Lego catalog which just came in the mail yesterday, this 1204 piece , $99.99 set stands at 17.4" tall, and is a thing of beauty. Click the image to visit Lego's online store for a few more images and details, and consider adding this set - soon of historical importance - to your collection.
Posted by charlie on June 30th 2010, 07:31 AM
Leave Comment

Share
---
No comments have been posted.
---