News Details
Transformers Universe - Countdown
The matched luggage to Darkwind of the day before last, Countdown was the other
Transformers Universe
Ultra Class repaint to find an exclusive home on the Toys R Us shelves in April 2009.
Originally finding his way into the Preserve collection in 1989 in the form of a Micromaster Autobot Rocket Base (coming soon), this incarnation sees him as '
a cross between a Russian R-400 Oka mobile ballistic missile launcher and a BTR-90 armoured personnel carrier
' according to the guys over at
tfwiki.net
. I find that I really do like the Ultra scale, and it also has the sort of chunky, substantial feel of that rocket base from 20 years previous. Click the image for more shots and the bio of this amazing freedom fighting, world liberating bot!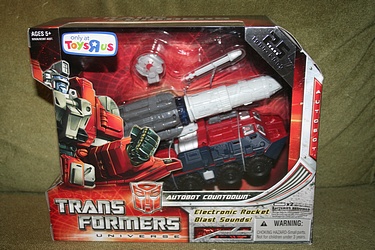 Posted by charlie on July 1st 2010, 07:30 AM
Leave Comment

Share
---
doctorkent
July 1st, 09:10 PM

This figure shocked me. I figured there was barely any chance of ever seeing this character again...but they made it work. And it fueled a lot of my thoughts about Transformers - what is a Micromaster? Obviously, if you take this in continuity, then he could later be made into a larger being, and existing Transformers could be shrunk. I have to put a blog post up about this...
cparry
July 2nd, 05:20 AM

Please do so - I'm sure that I am not the only one who would be interested in such a scholarly discussion!
---