News Details
Transformers: Revenge of the Fallen - Brawn
Also hailing from the 9th wave of Deluxe scale figures in the Revenge of the Fallen toy line, Brawn puts up his indestructible dukes to take on Rampage who we would see in wave 10. Always nice to see some classic G1 names getting applied in the modern day, and they put together a pretty solid looking vehicle mode for ol' Brawn. Click the image below to learn a little more about this tough Autobot.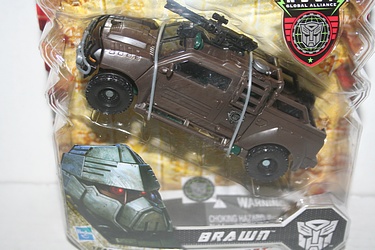 Posted by charlie on July 9th 2010, 11:19 AM
Leave Comment

Share
---
doctorkent
July 10th, 06:47 PM

This is my Brawn now. One of the most solid figures from ROTF.
cparry
July 11th, 08:31 PM

Glad to hear that you like him so well! I did plan on opening Brawn (gasp!) so I'll look forward to experiencing the goodness.
---